The Indians of Hungry Hollow
Bill Dunlop, Ottawa
Marcia Fountain-Blacklidge, Chippewa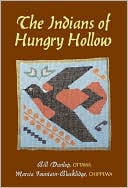 The days of Hungry Hollow have long passed, but the opportunity to capture her lessons of community, strong values, and an ability to thrive in matters of the heart and soul remain. The Indians of Hungry Hollow tells a story of family life in the early decades of the twentieth century through the eyes and hearts of a small Indian community in Northern Michigan. Bill Dunlop, a respected Ottawa elder and storyteller, recounts the experiences of his youth as a Hungry Hollow native. Coauthor Marcia Fountain-Blacklidge has faithfully taken down Bill's story and presents it to the reader in this volume.
Dunlop describes Hungry Hollow thus: 'In the still of the night, when others are captives of their dreams, she comes to me. Her gentle slopes, tar-papered homes and many faces dance across my mind awakening the sights and sounds of a time long past. Hungry Hollow was my first love, and like any true love, our journey together was not always an easy one. However, I owe much of what I consider to be good in myself to her. A casual passerby might have described Hungry Hollow as a group of improverished Indians living on the same street. Yet, to us she was the home of people who belonged to each other.
Historically significant, The Indians of Hungry Hollow helps to elucidate the transition that American Indians made from post-tribal days to their present culture. Its simple, lyrical language will engage readers of all ages. Historians, school children, and the general interest reader will find Dunlop's unique style of storytelling informative and compelling.
Bill Dunlop is a respected Ottawa elder and storyteller. Marcia Fountain-Blacklidge is a professional writer, artist, counselor, and consultant.
This book has been a decade in the making. It is NOW available at such as Barnes & Noble Booksellers, Amazon.com, Schuler's Bookstore, etc.. Take a look. Wonderful stories for all.
---

You may email Marcia at
Marcia [at] ravensneststudio.com
with comment and questions. She would like
to hear from you.

236 Pages/ISBN 0-472-11115-9
Published by University of Michigan Press
2000 C.E.: Cloth $39.50 & Paper $19.95
---
Kent Blacklidge, Webmaster
www.visionengineers.com