Who is Kent Blacklidge...

Kent H. Blacklidge MS PhD is an Indiana Certified Residential Appraiser and Real Estate Broker. Kent is FHA and VA certified and has been involved with real estate for over 22 years. He holds an industrial management undergraduate degree from the Krannert School of Management and three science graduate degrees including a Ph.D.; all from Purdue University. He was involved in newspaper management for over two decades which includes being publisher/CEO of the Kokomo (IN) Tribune, then an over 34,000 daily newspaper with 185 employees and over 300 newspaper carriers, for 4 years. Subsequently, Blacklidge was involved in biological research at Purdue for 12 years. He was Vice Chancellor of External Relations at Indiana University Kokomo for two years and has served as an adjunct faculty member at four universities teaching biology and/or environmental science.
Dr. Blacklidge takes pride in what he does. He has a history of earning clients' respect, satisfaction, and trust so they are comfortable returning again and again for appraisal services through out a multi-county North Central Indiana area.
Give KHB Appraisals a call or send an email to order an appraisal or ask a question. If you need additional information, please ask.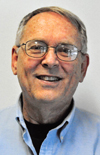 KHB Appraisals
Serving All of North Central Indiana
814 Maplewood Drive
Kokomo IN 46902
765 461-9708 Kent's cell